Newton-le-Willows and

Earlestown War Memorial
The Great War Roll of Honour
Click on photos to enlarge. (A poppy means no photo available at the moment.) For further information, follow the blue hyperlinks. Many lead to external links over which this site has no control.
In Memory of
2nd Lieutenant Reginald Charles Bowden
8th Bn., King's Own (Royal Lancaster Regiment)
Died of Wounds 3rd March 1916 age 19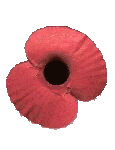 Lieutenant Bowden was the son of Charles Frederick, one of the principal officials on the Buenos Ayres and Pacific Railway, and his wife Caroline Sarah of 4082, Calle Navarro, Villa Devoto, Buenos Ayres, Argentina. Reginald came to the Earlestown area shortly before the War to serve an apprenticeship at the Vulcan Foundry, where he was well liked, having "a bright, cheery disposition with a good word for everybody" according to his obituary in the NEG of June 16th 1916.

He resided in rooms in Wargrave Road and, at the outbreak of war, obtained a commission in the 8th King's Own Royal Lancs.

The NEG published two letters from the Chaplain, M. P. G. Leonard. The first was dated March 2nd:

"Dear Mrs. Bowden, - I am writing to you at Reggie's request, to tell you he is very merry and bright.

"Our Battalion has just been through a very hard time. We attacked the German lines yesterday at dawn, and captured two lines and 250 Germans, but at the cost of many casualties. Poor Reggie, I am sorry to say, was among the number. He was hit in four or five places, but still went on; he was absolutely magnificent. His first wound was from shrapnel in the back, which knocked him on to the barbed wire. When he got off he found a German coming at him, so clutched hold of his rifle and tried to wrestle it from him. The Hun however managed to fire three times at him. Reggie still held on, and drew his revolver and shot the Hun dead.

"All the Battalion are full of his pluck and courage. After he was wounded, we got him on a stretcher, and managed to get him to the dressing station, where he had to be out in the open for some time, but he never complained, despite the pain of his wound and the bitter cold.

"I don't want to alarm you, but I must say that he is badly wounded, but he has youth on his side and infinite pluck, so I hope he will make a quick recovery.

"He asked me to send you his love, and to tell you to expect him soon in "Blighty".

"The whole Battalion is frightfully cut up that he should have been wounded, for he is the pride and joy of the whole mess.

"All his brother officers, I know, join with me in expressing our sympathy in his wounds an our admiration for his courage and endurance.

"Believe me, yours sincerely, M. P. G. Leonard,

"Chaplain, H.M.Forces, 8th King's Own Lancs. Rt."

The second, longer, more sentimental letter was dated 6th March:

"Dear Mrs. Bowden - It is with the greatest sorrow and the deepest sympathy that I write to you again.

"We were all heartbroken when we heard the news that your boy had succumbed to his wounds. It was so crushing that we could hardly realize that he was gone. I cannot tell you how much we miss him, for we have all learnt to love him. He had one of those rare and loveable dispositions which attract all who come in contact with him. All the Battalion – officers and men alike – share your grief. Since we heard the sad news, men have come to me with tears in their eyes and asked me if it was true that he was dead. Everybody loved him, for he was so full of life and good spirits, always so cheery and good natured, and above all, so sympathetic. Life is all the richer for having known him.

"As a friend and comrade, his loss is irretrievable, but it is not only as a friend that the whole Battalion mourns his loss. As an officer he has left an imperishable mark. He was chosen for his intelligence and grasp of detail to be Brigade-Pioneer Officer, and there is a strong point in the firing line which he built called "Fort Bowden" after him. This was the only work in the whole of our line which stood the German bombardment in the assault in which poor Reggie received his wounds.

"I saw him after he was hit, in fact, I helped to carry him down to the dressing station, and he talked to me as we carried him back. Never once did he complain; his only thought was for his servant Tom Boys, who was killed at the commencement of the assault.

"I know well what a loss his death must be to you, and what a gap it will leave in your life, but don't think of him as gone for ever, but only a little ahead on the great Journey.

"He has made the greatest sacrifice a man can make. He has met his Pilot face to face, and passed with Him from the storm and stress of war to the peace and quiet of the inner harbour, where one day you will find him again, and resume in all its fullness and perfection your interrupted intimacy.

"He breathed his last at No. 10 Casualty Clearing House, Poperinghe, and it is there he is laid to rest.

"May he rest in peace, and may the God of All Comfort, comfort you with His own consolations.

"In all true sympathy, in which every man and officer of the Battalion joins, believe me, very sincerely yours,

"M. P. G. Leonard,
"Chap. 8th. King's O. R. Lancs. Rt."

The NEG also published a letter of sympathy from Reginald's Commanding Officer, Lt. Col. A. W. D. Thorne, who "watched his development into a bright and dashing young officer."

Reginald is buried in Lijssenthoek Military Cemetery, Poperinge, which is 12 kilometres west of Ieper town centre, in Plot II, Row A, Grave 43. During the First World War, the village of Lijssenthoek was situated on the main communication line between the Allied military bases in the rear and the Ypres battlefields. Close to the Front, but out of the extreme range of most German field artillery, it became a natural place to establish clearing stations. The cemetery contains nearly 10,000 Commonwealth burials of the First World War and nearly 1,000 war graves of other nationalities, mostly French and German, making it the second largest Commonwealth cemetery in Belgium.

Private Oliver Hingley of the same Battalion was also killed in the same action as Reginald received his wounds. The Official History describes the fighting to Recapture the Bluff.
The NEG issue which carried Lt. Bowden's obituary also had a more light-hearted story of a five year old trying to join the army.