Newton-le-Willows and

Earlestown War Memorial
The Great War Roll of Honour
Click on photos to enlarge. (A poppy means no photo available at the moment.) For further information, follow the blue hyperlinks. Many lead to external links over which this site has no control.
In Memory of
Private Joseph Potter
201926
1st/4th South Lancashire Regiment
Killed in Action 31st July 1917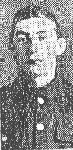 Joseph was the son of James and Isabella Potter. The WG obituary published on 11th August 1917 gives their address as Hermitage Green, Winwick, but the CWGC has their address after the war as 9, Arbury View, Winwick, Warrington.
Private Potter attended Winwick C.E. School and was connected with the Church, Sunday School and Bible Class. Prior to enlisting on his 18th birthday, he was employed on a local farm. After training at Blackpool, he was drafted to the front on May 1st 1916 and saw 15 months of active service.
The WG obituary included a letter from Lt. Hackett who explained that Joseph "did not suffer at all, his death being instant from a bursting shell." His name is recorded on the Menin Gate, at Ieper.
An older brother was a patient in the White Cross Hospital when Joseph was killed.
Joseph was killed on the first day of the Third Battle of Ypres, usually known as Passchendaele. The Rev. Coop gives a full account of the involvement of the 55th Division of which 1st/4th South Lancashires were the Pioneer Regiment for the Division. The Regimental Diary records the work done by the Regiment:
"July 31st 1917 H.1.d.8.8
Fine. Res. Coy. Parties at R.E.Park
Battalion in Action N.E. of YPRES
'A' Coy. Working on Light Railway Construction under XIX Corps.
B Coy. Marking out and making Tracks from Front Line Trenches to various objectives in the German Lines.
C Coy. Cleaning and repairing St Jean-Gravenstafel Road up to the objectives inside the German lines.
D Coy. Marking out and making tracks from Front Line Trenches to various objectives in the German Lines.
Casualties 2 officers wounded (1 remained at Duty)
42 O.R Wounded (1 remained at Duty)
6 O.R. Killed"
The six 'O.R.'s or Other Ranks killed will have included Private Joseph Potter and Private Herbert Porter.