Newton-le-Willows and

Earlestown War Memorial
The Great War Roll of Honour
Click on photos to enlarge. (A poppy means no photo available at the moment.) For further information, follow the blue hyperlinks. Many lead to external links over which this site has no control.
In Memory of
Private Herbert James Porter
200209
C Coy., 1st/4th South Lancashire Regiment
Killed in Action 31st July 1917 Age 20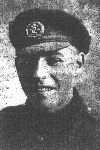 Herbert was the son of Mary J. Porter of 172, Haydock Street, Earlestown, and the late Thomas William Porter. He was formerly a baker with the Earlestown Industrial Co-operative Society. He enlisted at the start of the war. He had been in hospital with trench fever and had only been back to the lines for a couple of months before his death.
His obituary in the NEG of 24th August 1917 includes a letter from his Lieutenant, Frank W. Wood, who reports that Herbert was "killed in action during the early hours of July 31st, the day on which the recent advance commenced. His death took place – along with that of his corporal and another comrade of his platoon – as we were going along the road to do the task that had been allotted to our Company. He was one of our stout men, a member of the Lewis gun team, and they were marching at the head of our party."
Herbert is buried in White House Cemetery in Ieper, Plot I, Row GG, Grave 9. There are over 1000 casualties from the First World War commemorated on the site of whom over 300 are unidentified.
Corporal Frank Porter of the Royal Warwickshire Regiment, Herbert's brother, was wounded in April 1917 and was admitted to 32 Stationary Hospital, Wimereux, initially, then sent to hospital in Dundee. Frank had been a grocery assistant with the same Co-operative Society.
As mentioned in 2nd Lt. Wood's letter, Herbert was killed on the first day of the Third Battle of Ypres, usually known as Passchendaele. The Rev. Coop gives a full account of the involvement of the 55th Division of which 1st/4th South Lancashires were the Pioneer Regiment for the Division. The Regimental Diary records the work done by the Regiment, including C Company:
"July 31st 1917 H.1.d.8.8
Fine. Res. Coy. Parties at R.E.Park
Battalion in Action N.E. of YPRES
'A' Coy. Working on Light Railway Construction under XIX Corps.
B Coy. Marking out and making Tracks from Front Line Trenches to various objectives in the German Lines.
C Coy. Cleaning and repairing St Jean-Gravenstafel Road up to the objectives inside the German lines.
D Coy. Marking out and making tracks from Front Line Trenches to various objectives in the German Lines.
Casualties 2 officers wounded (1 remained at Duty)
42 O.R Wounded (1 remained at Duty)
6 O.R. Killed"
The six 'O.R.'s or Other Ranks killed will have included Private Herbert Porter and Private Joseph Potter.