Newton-le-Willows and

Earlestown War Memorial
The Great War Roll of Honour
Click on photos to enlarge. (A poppy means no photo available at the moment.) For further information, follow the blue hyperlinks. Many lead to external links over which this site has no control.
In Memory of
Lance Corporal Edwin Joseph
1756
1st/4th Prince of Wales' Volunteers (South Lancashire Regiment)
Died 22nd October 1915 Age 19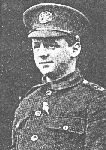 Lance Corporal Edwin Joseph was the son of Edwin and Mary Ellen Joseph of 398, Wargrave Road, Newton-le-Willows, and the brother of Herbert and Frank. The family home stands directly opposite the driveway to Emmanuel Church, in the churchyard of which Edwin lies. Edwin senior was the clerk and sexton for many years.

Edwin was an old scholar of the Wargrave Day School, connected with the Church and Sunday School, and was employed as a blacksmith's apprentice at the Vulcan Foundry. At the Technical School in the 1913-14 session, he passed with distinction and carried off prizes in connection with his trade.

He was one of a group sent to assist the Gordon Highlanders on a bomb throwing expedition on September 25th at Loos, when his regiment was christened by one of the generals "The Unbreakable Fourth!". Unfortunately, he was badly wounded by shrapnel behind the knee. Septic poisoning set in and he died in Sheffield Hospital.

His brother Herbert was a Lance-Corporal in the King's Liverpool Regiment, and formerly worked with Messrs. McCorquodale and Co. Frank was a Staff Sergeant in the Army Ordinance Corps, who was employed at the Vulcan.

Flowers listed in the newspaper obituary include ones from 'Mother and Father, Annie, Nora and Lucy', 'Nellie and Dick', 'Bert and Lillie' and 'Frank and Phoebe', so it may be assumed that Edwin had four sisters, one of whom was married, in addition to two brothers.

Frank was unable to make the journey from France for the funeral, and the bearers were Private J. Allison (of the 1st/4th South Lancashires), who was home on four days' leave from France, Lce.-Cpl. W. P. Wilson (4th Cheshires), cousin, Sapper R. Tipping, brother-in-law, and Herbert.

A final volley was fired, the firing party containing some of Edwin's Earlestown comrades, some of whom had received wounds in the same engagement, viz., Privates Sweetlove, Morris, Plant, Hunt, and Green, and Lce.-Cpl. Stead.

Edwin's gravestone is now used by Emmanuel Church as a memorial, and a wreath of poppies is placed on it every November. Unfortunately, alterations were made to the graveyard some years ago and the actual location of Edwin's grave has been lost.