Newton-le-Willows and

Earlestown War Memorial
The Great War Roll of Honour
Click on photos to enlarge. (A poppy means no photo available at the moment.) For further information, follow the blue hyperlinks. Many lead to external links over which this site has no control.
In Memory of
Private Victor James Ray Eliason
913
1st Australian Machine Gun Corps
Killed in Action 15th May 1918 Age 27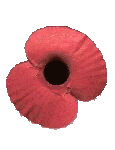 The Newton-le-Willows and Earlestown Memorial lists an R. V. Elaseon. It has not been possible to identify this casualty with any certainty. There are no casualties with this spelling listed by CWGC.
The above is one possibility, though he was born in Bendingo in Victoria, Australia, the son of Oliver Matthew and Temena Eliason. His widow Martha, though, lived in Shepperton, England, according to his papers which can be viewed on the internet. He is buried in Le Grand Hasard Military Cemetery, Morbecque, in Plot 3, Row B, Grave 8. This theory is supported by the fact that the "Private Roy V. Eliason" on the memorial at Emmanual Church was also in the Australian Imperial Force.
The following email was received recently:
"I was interested to see your page that mentioned my grandfather's brother's name is on these memorials, and posed a question about his identity. There are a few mistakes in the records that probably contributed to the doubts.
He was Victor James Roy Eliason (usually called Vic) and he was born near Bendigo in Victoria. He got married in 1917 to Martha (Pat) Harrop who was born at Newton but she then lived at Vulcan and her parents at Earlestown. In 1919 she left England and went to live in Shepparton district in northern Victoria (her mother-in-law lived at Katamatite about 20 miles north east of Shepparton). Pat married Vic's brother Bill (my grandfather) in 1921 and she died at Redcliffe in Queensland in 1987 aged 90.
Vic was wounded at Gallipoli at the landing on 25 April 1915 and was evacuated to England. He went back and was wounded again and again evacuated to England. He was hospitalised in Manchester. Pat worked as a hospital orderly early in the war so we think that's how they met. She later worked in a munitions factory which I guess was the Vulcan Foundary.
Regards,
Andrew Eliason
Canberra"