Newton-le-Willows and

Earlestown War Memorial
The Great War Roll of Honour
Click on photos to enlarge. (A poppy means no photo available at the moment.) For further information, follow the blue hyperlinks. Many lead to external links over which this site has no control.
In Memory of
Sapper Peter Burns
28834
20th Army Troops Company, Royal Engineers
Killed in Action 8th July 1917 Age 29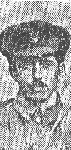 Sapper Peter Burns was one of four brothers who served during the Great War, sons of James and Mary Burns of 352, Wargrave Road, Newton-le-Willows. One brother, Arthur, died as a result of gas on 24th March 1916, while Tom and James survived the war. James and Peter's names are on the first list of recruits, both under Royal Engineers.
Peter had been a moulder under Mr. Cordingley at the Vulcan Foundry. He was a teetotaler and non-smoker. The last time he had been at home was Arthur's funeral. He was killed on his 29th birthday.
The CWGC states that Peter "died of wounds", however his obituary in the WG of 21st July quotes a letter from Father Wynch, RC chaplain to the Forces: "He was killed instantly in action." He is buried in Canada Farm Cemetery in Plot I, Row B, Grave 19. This is located 8.5 kilometres noth west of Ieper. The CWGC gives the following information:
"Canada Farm Cemetery took its name from a farmhouse used as a dressing station during the 1917 Allied offensive on this front. Most of the burials are of men who died at the dressing station between June and October 1917. There are now 907 First World War burials in the cemetery."
A photograph was published of Peter in the trenches in the Newton and Earlestown Guardian.