Newton-le-Willows and

Earlestown War Memorial
The Great War Roll of Honour
Click on photos to enlarge. (A poppy means no photo available at the moment.) For further information, follow the blue hyperlinks. Many lead to external links over which this site has no control.
In Memory of
1st Class Air Mechanic Arthur Burns
3259
Royal Flying Corps
Died on 24th March 1916 Age 21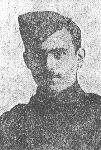 Air Mechanic Arthur Burns was one of four brothers who served during the Great War, sons of James and Mary Burns of 352, Wargrave Road, Newton-le-Willows. One brother, Peter, died of wounds on 8th July 1917, while Tom and James survived the war.
As a boy, Arthur attended the Wargrave Mixed School. According to the obituaries published in the NEG on 7th April 1916 and the WG on 8th April, he joined the South Lancashire Regiment at the outbreak of the war, but it was decided by the military authorities that his mechanical skills which he had acquired while working at the Vulcan Foundry could be used to greater advantage in the Royal Flying Corps, and he was accordingly transferred.
He was "gassed" in February 1915 and was in hospital until his death at the Connaught Hospital, Aldershot, over a year later. It is not clear what this "gassing" was, as many articles suggest that the first use of poison gas by the Germans was not until 22nd April 1915. The article accompanying the photo of the family suggests it was not a German poison gas attack. Arthur "made great efforts to master the effects, but never succeeded and passed away."
An In Memoriam published in the NEG on 23rd March 1917, which contained this couplet:
"His pain was great, the shock severe,
We little thought the end was near."
In addition to the family names, there was "sweetheart" Mary Penman of 84, Goldrum Street, Dunfermline, Scotland.
Arthur is buried in Newton-le-Willows Cemetery, in Grave CE 3466.