Newton-le-Willows and

Earlestown War Memorial
The Great War Roll of Honour
Click on photos to enlarge. (A poppy means no photo available at the moment.) For further information, follow the blue hyperlinks. Many lead to external links over which this site has no control.
In Memory of
Lance Corporal Peter Pennington
2111
C Coy. 4th Battalion South Lancashire Regiment
Died of Wounds 29th April 1915 Age 22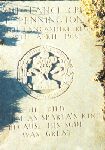 Peter was the son of Peter and Martha Pennington of 23, Grundy Street, Golborne. He was employed as a miner at the Golborne collieries of Messrs. Richard Evans and Co., and, having gained the certificate of the Lancashire and Cheshire Coal Owners' Association qualifying him for rescue work, was a member of one of the colliery rescue teams.
He was connected with the Territorials, that is the 4th Battalion South Lancs., for some years before the war. At the outbreak of hostilities in August 1914, he re-enlisted, and after a course of training, was drafted to France on February 13th 1915.
Obituaries were published in the NEG on May 14th 1915, and in the WG the next day. They indicated that Peter had died in the General Hospital in Wimereux, just north of Boulogne, "as a result of a gun-shot wound in the abdomen received the previous day."
Peter is buried in Wimereux Communal Cemetery, along with Sergeant Walter Young, Lance Corporal George Mercer, and Lt.-Col. John McCrae, the author of the poem "In Flanders Field".
Whalley-Kelly comments on the month of April with the 4th Battalion:
"This tour of the front line lasted until 1st April, when the 1st/4th was relieved by the 2nd Battalion and returned to billets on the Dickebusch – La Clytte road, having acquitted itself well in this, its first independent spell of duty as the garrison of an important sector of the British front. The remainder of the month was spent in ordinary trench routine, the 2nd and 4th Battalions relieving each other at regular intervals and each providing working parties, while out of the line, for pioneer work in the forward areas; a dangerous and uncomfortable form of "amusement" as all who took part will well remember."
The Battalion Diary records, for the 28th April, the day Peter was wounded:
"Day fine & warm. Digging party 250 men in rear of 2 S LAN R trenches
Casualties Other ranks Wounded 5."