Newton-le-Willows and

Earlestown War Memorial
The Great War Roll of Honour
Click on photos to enlarge. (A poppy means no photo available at the moment.) For further information, follow the blue hyperlinks. Many lead to external links over which this site has no control.
In Memory of
Rifleman John Ellicott
3604
1st/5th Battalion South Lancashire Regiment
Killed in Action 12th August 1916 Age 21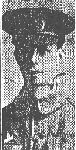 Jack Ellicott was the son of John and Elizabeth Ellicott of 6, Houghton Street, Earlestown. He had a brother Harry who was 15 when Jack enlisted in January 1915. He was an old scholar of the Wesleyan Day School and the Congregational Church and School. He was employed as a labourer at the Viaduct Wagon Works.
Jack's papers are among the so called "burnt papers" at the PRO which survived bombing during the Second World War, but which have been microfilmed and made available recently. These tell us that John was 5ft. 9 ins. tall and weighed 145 lbs. They also tells us that he embarked for France on the 7th August 1915, and that he was deprived of two days pay for irregular conduct on the 30th of the same month. The WG obituary published on 28th October 1916, however, suggests that he was only at the front "a couple of months".
Originally, Jack was reported missing, but a letter was received from a cousin: "I have been inquiring and from what I can get to know there is no doubt about his death. I have seen the corporal who was with the party when Jack and a few others got hit. He said there was absolutely no hope at all as Jack was badly wounded in the stomach and was almost dead when he left him. I'm sorry I can't send you better news." The NEG obituary of 27th October explains that he was returning to his billet for a rest with others when a shell exploded over them.
Jack is buried in Serre Road Cemetery No. 2 in Plot XIV Row F Grave 4.