Newton-le-Willows and

Earlestown War Memorial
The Great War Roll of Honour
Click on photos to enlarge. (A poppy means no photo available at the moment.) For further information, follow the blue hyperlinks. Many lead to external links over which this site has no control.
In Memory of
Corporal Thomas Eaves MM
432148
49th Battalion Canadian Infantry (Alberta Regiment)
Killed in Action 30th October 1917 Age 28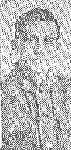 Corporal Thmas Eaves was born on January 16th 1889, the son of James and Ann Eaves of 16, Rathbone Street, Earlestown. He had worked in the wagon shop of the Viaduct Works, but went out to Canada in 1911. He enlisted with the Canadian forces on January 4th 1915, a few months after the start of the war. He wrote an interesting letter from Edmonton to the Headteacher of the District School about recruitment in Canada, which was published in the NEG on 14th May 1915.
As he enlisted in a Canadian regiment, Thomas's attestation paper is available through the internet. This gives his height as 5ft. 51/2ins. He had a medium complexion, with brown eyes and brown hair. He gave his trade as a wheelwright and his religion as Church of England. As he was single, he named his mother in Earlestown as his next of kin.
The WG of 9th September 1916 gave details of Thomas winning the Military Medal:
"He recently took a party and held on to some trenches where the defenders were being severely pressed. He was then a private, but received his two stripes on coming out of the trenches, and has since been awarded the medal."
Thomas's obituary in the NEG of 16th November 1917 states that "he was once invalided home, suffering from shock." It gives few details of his death itself, except that he was killed on the morning of October 30th. This was during the Third Battle of Ypres, often called Passchendale.
His name is on the Menin Gate, the memorial in Ypres to those who died in the Salient generally before 16th August 1917, and who have no known grave. Clearly Thomas is an exception to this, being killed after this date.