Newton-le-Willows and

Earlestown War Memorial
The Great War Roll of Honour
Click on photos to enlarge. (A poppy means no photo available at the moment.) For further information, follow the blue hyperlinks. Many lead to external links over which this site has no control.
In Memory of
Private John Helsby Eaton
20478
13th Battalion Royal Sussex Regiment
Died 5th December 1918 Age 31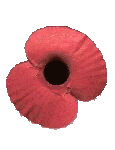 Private John Helsby Eaton was the son of Mr. and Mrs. John Eaton of 53, Padgate Lane, Warrington, though he had been born in Wargrave, Earlestown, was educated at Wargrave School, and attended St. John's Church before moving to Warrington "some years ago" where he worked for the Warrington Tanning Company. His brother Percy served with the Royal Engineers. John was married, and had a 15 month old baby girl.
John joined the forces in May 1915 and saw "much severe fighting". According to his obituary published in the NEG on 13th December 1918, he "was on his way home from Germany after suffering terrible hardships as a POW for eight months and was admitted to hospital (the 30th General Hospital, Calais, according to the WG) in a terribly emaciated condition" where he died of influenza. He is buried in Les Baraques Military Cemetery, Sangatte, in Plot VII, Row B, Grave 5, the cemetery being found on the western side of Calais.