Newton-le-Willows and

Earlestown War Memorial
The Great War Roll of Honour
Click on photos to enlarge. (A poppy means no photo available at the moment.) For further information, follow the blue hyperlinks. Many lead to external links over which this site has no control.
In Memory of
Private J. Charles Byrne
85979
3rd Battalion, The King's (Liverpool Regiment)
transferred to (519093) 18th Company, Labour Corps
Died on 24th January 1919 Age 30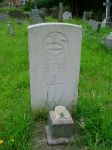 Private Chas Byrne was originally a native of Liverpool, but made his home with his aunt, Mrs. McDonough, at 54, Clarence Street, Earlestown. He joined the army early in the war and was wounded twice. He was transferred to a Labour Corps. He was sent to Winwick War Hospital where he died. He was buried with military honours on January 30th in the churchyard at SS Mary and John RC Church, Newton-le-Willows.
Private Byrne had a brother killed in Salonica "rather more than 12 months ago", according to the obituary in the NEG of February 7th 1919. Another brother was killed at Haydock Colliery, all three brothers dying in less than three years. (CWGC records a Private S. Byrne of 2nd Battalion Royal Irish Guards (G/1052) as being killed on 30th October 1917 and being buried in Mikra British Cemetery, Kalamaria. This may have been the brother.)