Newton-le-Willows and

Earlestown War Memorial
The Great War Roll of Honour
Click on photos to enlarge. (A poppy means no photo available at the moment.) For further information, follow the blue hyperlinks. Many lead to external links over which this site has no control.
In Memory of
Private John Bull
14220
1st Battalion King's (Liverpool Regiment)
Died on 22nd September 1916 Age 34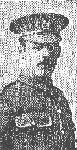 Private John Bull was born in the Gorton district of Manchester the son of Amos Bull. On the 8th July 1901, he married Mary Smith at St Peter's in Newton-le- Willows. They had five children- Kathleen was born on 12th April 1902 at Warrington; William was born on 9th February 1908, in Bolton; Annie was born on 12th March 1911 in Ashton; John was born on 15th July 1912 in Newton; and Selina was born on 2nd August 1914 in Warrington. Kathleen had left school when John died in 1916, but William and Annie both attended Earlestown Council School.

John was a labourer employed in the forge at the L. and N.- W. Railway Co.'s Wagon Works (Viaduct Works) at Earlestown prior to joining the army. He was one of the first to enlist, doing so on 29th August 1914. According to his Attestation Paper, he was 5 feet 51/2inches in height, weighed 1391bs., and had a 39 inch chest. He had a dark complexion, hazel eyes and dark hair. He declared himself to be a Roman Catholic. (St. Peter's, where he married, is an Anglican church.)

John certainly does not seem to have been a model soldier during his two years service. Whilst with the 4th Battalion at Seaforth he was "absent from 12 noon on the 11th inst. until 11 p.m. 13.10.14", for which he was "admonished". A week later, he was absent from Tattoo 19.10.14 until reveille 21.10.14, earning 5 days confined to barracks. A week later, he was absent from Tattoo until 8 a.m. 28.10.14, this time receiving 7 days confined to barracks. Seven days meant overlapping the following weekend, therefore the next entry on his conduct sheet reads:

"I. Breaking out of camp whilst a defaulter 2.11.14 and remaining absent until apprehended by Civil Power at 8.45 p.m. 4.11.14
II. Deficient of bedding."

This time, as well as having to "pay for deficiencies", he received four days Field Punishment No.2. These four absences also resulted in John losing a total of eleven days pay.

He appears to have behaved himself the next weekend before going absent from reveille on 16.11.14 to 8 a.m. 18.11.14, earning another 3 days F.P.No.2 and forfeiting three more days pay. His next absence was
not until late February 1915, but on 1.3.15 his "breaking out of[?] whilst attending hospital and remaining absent until found in bed at 6.50 a.m. 2.3.15" earned him an admonishment and loss of a days pay. Perhaps, there was not enough time for a more serious punishment as his papers are stamped "Embarked 5-3-15", John now being posted to France with the 4th Battalion.

He was not long in France before he received a gun shot wound to his face. His Casualty Form records his being "missing" on 27th April 1915, and the first date regarding his wound is 29th April. His wound was
sufficient for John to be sent back to "Blighty", ending up in hospital in Oxfordshire.

He clearly recovered as by 15th August 1915, he was absent again until 12 noon on 20.8.15, this time getting 6 days F.P No.2 and losing 6 days pay. At this time he was with the 3rd Battalion at Pembroke Dock. Just by way of a variation, he was confined to barracks for five days in mid-October for "not scrubbing the floor when ordered". He does not seem to have been absent again until March 1916.

He was posted to France again on 17th May 1916, with the 1st Battalion, shortly before the start of the Battle of the Somme. On the 8th August, the 2nd Division, which included 1st Battalion of the King's (Liverpool Regiment) took part in the Attack on Guillemont:

"The 1st King's (6 Brigade) advanced eastwards, north of the railway, and three companies reached the station. The fourth found that the Germans had re-occupied their front line and therefore could not support the attack. 17th Middlesex attacked from Waterlot Farm and entered ZZ Trench, but failed to join with 1st King's."

It was during this attack that John was shot in the left elbow, according to his casualty paper but right arm according to Newton and Earlestown Guardian, and also went "missing", the latter fact being recorded in the Guardian of 8th September 1916. Two weeks later, they reported that Mrs Bull had received a postcard saying that her husband was a prisoner of war at Gottingen, Germany, but was unable to write himself as he was wounded in the arm.

The Guardian of 13th October 1916 carried news of his death. A letter was sent to Mrs. Bull from Company Sergeant C. J. Shea giving her the news that her "beloved husband passed away at 7 minutes past 4 on the afternoon of the 22nd. Sept. He was recovering well from his wound, but somehow contracted pneumonia, from which he succumbed. He was laid to rest in the Cemetery at Gottingen on the 25th. September, followed by two of his Officers and a number of his comrades from the Camp."

The Death Certificate is interesting in that it gives John's occupation as 'linen weaver', rather than a labourer in an engineering forge. Mary remarried on 20th December 1916 and became Mrs. Donohue. There was a gratuity of £52 and an allowance of 14/6 a week (increasing to 17/6 from 4.4.17) paid with effect from 26.3.17 for the five children.