Newton-le-Willows and

Earlestown War Memorial
The Great War Roll of Honour
Click on photos to enlarge. (A poppy means no photo available at the moment.) For further information, follow the blue hyperlinks. Many lead to external links over which this site has no control.
In Memory of
Private William A. Brown
20136
2nd/4th Battalion, South Lancashire Regiment
Died 2nd June 1916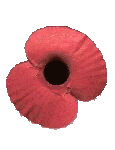 There are brief details of the death from "a most painful malady" of Private William Brown in the NEG of 16th June 1916.
He is buried in Mersham (St. Catherine) Churchyard in Surrey.
A Lance Corporal William Arthur Brown of the 2nd Battalion South Lancashire Regiment (No. 200134) was the son of Mrs. Vanda Brown of 40, Wakefield Street, Warrington. He died of wounds on 22nd October 1918, and is buried at Sanctuary Wood Cemetery. No NEG obituary for this soldier can be found though it is still possible that he is the name on the memorial.