In Memory of
Private Thomas Boyers
23262
3rd Bn., Worcestershire Regiment
Killed in Action on 7th June 1917 age 26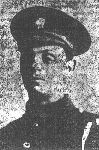 Thomas was the son of James and Margaret Boyers of 238, Common Road, Earlestown. James was an underground worker at Collins Green Colliery and was injured five weeks before Thomas was killed. As a boy he attended the Manor Day and Sunday Schools. He was employed in the Smithy at Collins Green Colliery before enlisting in November 1914. His training was done at Woolwich, Aldershot and Hull.
Thomas went to France in May 1915 and was wounded on three occasions. According to the NEG obituary published on 29th June 1917, "once, it is believed, he was the only man in his platoon left to tell the tale." On none of these occasions was he sent home, and he had only one furlough during the whole time he was in the army.
His brothers Samuel, who was seven years older, and Peter, who was three years older, also served in France, while Thomas's brother, James, who was two years younger, went through the Dardanelles campaign and was in Salonika when Thomas was killed.
According to a letter from Rev. G. N. Evans, the Chaplain attached to the 3rd Battalion Worcestershire Regiment, Thomas "was gallantly attacking with his Company when he was killed. He was buried near the place he was killed."
Thomas is buried at St.-Quentin Cabaret Military Cemetery which is ten kilometres south of Ieper, in Plot II Row P Grave 1. The cemetery is named after an inn in the area which was used at times as Battalion Headquarters. There are over 450 First World War casualties commemorated on the site.
Private Boyers fell during the Battle of Messines. The Official History gives a long and detailed account of the fighting of several divisions including the 7th Brigade of the 25th Division of which the 3rd Worcestershires were part.