Newton-le-Willows and

Earlestown War Memorial
The Great War Roll of Honour
Click on photos to enlarge. (A poppy means no photo available at the moment.) For further information, follow the blue hyperlinks. Many lead to external links over which this site has no control.
In Memory of
Sergeant Joseph Betts
704
1st/4th Prince of Wales' Volunteers (South Lancashire Regiment)
Killed in Action 7th June 1915 Age 38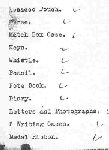 Sergeant Joseph Betts, of 127, Legh Street, Earlestown, had been with the Territorials for five years, and was a member of "B" Company. Prior to his connection with the Battalion, he served in the Regular Army, and fought through the South African War. For some years he was quartered with his regiment in India. In a letter dated 1st March 1915, published in the "Newton and Earlestown Guardian", Sergt. Betts indicated opinion about the "Terriers".

He was born in Uttoxeter, Staffordshire, the son of Thomas and Mary Betts. According to the 1881 census, Joseph had a sister Mary, who was two years younger than him and a brother Stephen who was four years younger. The 1891 census has Joseph living in Burton on Trent with his uncle Samuel Beard and working as a brewer's labourer.
He was employed before the First World War at the Viaduct Works as a moulder. He was an exponent of physical culture and had been the champion club swinger in the Army.

His death, which left a widow, Minnie, and two young children, is described in a letter from Lance Corporal Harry Eckersley to his father in North Ashton:-

"But the worse time I had was when I saw poor Sergt. Betts killed. He was between the lines, sniping, and he had accounted for several German snipers, and was about to fire again, when the Germans had him. He was shot through the mouth and through the neck. When I saw him fall, I ran to him, regardless of the enemy's fire, picked up his rifle and fired his last shot for him, and I believe I got the man that shot him. After that it sickened me a little. I was so grieved I could do nothing further that day. It is very hard to lose a friend like him. We respected each other, and he always had a cheery word for me, "Well, Harry, how are you going on? Is there anything I can do for you; if there is I will do it willingly." That was the sort of man he was, and I was not ashamed to shed a few tears when he was dead - and I was not the only one either, for he was well liked by everybody in the Battalion."

The issue of the "Newton and Earlestown Guardian" of 18th June 1915 also included an unfinished letter from Sergeant Betts' platoon officer, Lt. Holden. It explained that the letter was unfinished as Lt Holden had actually been killed while writing the letter.

Pte. Sam Pierce also tells of Sergeant Betts' death in a letter home.

Although he was obviously buried at the time, it appears that his grave must have been destroyed as he is commemorated on the Menin Gate at Ieper, a memorial to the missing.