Newton-le-Willows and

Earlestown War Memorial
The Great War Roll of Honour
Click on photos to enlarge. (A poppy means no photo available at the moment.) For further information, follow the blue hyperlinks. Many lead to external links over which this site has no control.
In Memory of
Private Frederick Bennett
46609
1st/5th Battalion, York and Lancaster Regiment
Killed in Action on 13th October 1918 Age 19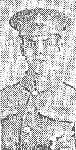 Fred was the son of Richard and Alice Bennett of 53, Cross Lane, Earlestown. Before joining the army he had worked in the grocery department of the Earlestown Cooperative Society. He joined the forces in August 1917 and had been in France for five months.
According to a letter from an army chaplain he died while advancing on a village which was stongly held by the enemy.
He is buried in York Cemetery, Haspres, in Grave C 30. Haspres is a village about 15 kilometres north-east of Cambrai and about the same distance south-west of Valenciennes.The village of Haspres was taken after severe fighting, with the help of tanks, on 20 October 1918. York Cemetery was made at the end of October 1918 by the 1st/5th York and Lancaster Regiment and other units of the 49th (West Riding) Division. The cemetery contains 137 Commonwealth burials of the First World War and ten German graves.