Newton-le-Willows and

Earlestown War Memorial
The Great War Roll of Honour
Click on photos to enlarge. (A poppy means no photo available at the moment.) For further information, follow the blue hyperlinks. Many lead to external links over which this site has no control.
In Memory of
Private William Beatty
20370
1st/4th Prince of Wales' Volunteers (South Lancashire Regiment)
Killed 19th January 1916 Age 52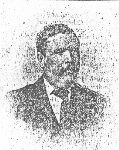 Private William Beatty was killed while on duty at Seacombe Docks on the Wirral, when a pair of heavy gates was blown down in a strong gale, Private Beatty's body being found under them. An inquest was held at the "Cheshire Cheese" in Seacombe.

According to the "Earlestown and Newton Guardian" of 28th January 1916, William Beatty, who was 52, was "a man of much versatility" who had "an interesting career" being in turn "builder and contractor, hotel keeper, American traveller, councillor, sportsman and soldier."

He was a native of Earlestown, the son of James Beatty of Wargrave Road. His mother, Mary, and sisters, Agnes and Ignatius, kept the Wargrave Post Office for many years. He was apprenticed to joinery at the Vulcan Foundry, and afterwards worked for Mr Davies of Haydock Street, a builder and contractor, and eventually started in that business on his own account.

When he retired from that business, he took over the management of the Griffin Hotel after Mr T. Hamer left the town, but during his tenancy there was considerable industrial distress in the town. Mr Beatty, who was of a very hospitable and sympathetic temperament, must have spent a great deal in private relief, for he provided numerous dinners at his house for people who were in somewhat necessitous circumstances. This, together with the fact of bad trade, militated against his own interests as a hotel keeper, which business he eventually relinquished, with a view to going across the Atlantic to try his luck there. A very representative gathering was held at the Viaduct Hotel, to give him a "send-off", and he was the recipient of a purse of money as a testimony to the many friendships that he had formed in the town.

Still ill-luck dogged his footsteps in this enterprise, and in a short time he returned to Earlestown to follow his own trade as a builder again. He then had a very serious illness, a complete nervous breakdown, and for many months he was confined to his bed. When he did recover, he had to take life very quietly, but after war was declared, he joined the 4th South Lancashire Regiment for home defence in Warrington. It was while on guard duty that he had an accident by falling into the water on the Cheshire side of the Mersey. He was then killed in a similar accident during a gale.

Mr Beatty always took a keen and active interest in local affairs. When the Local Government Act was passed, abolishing Local Board and Commissioners, and setting up Urban and Rural Councils, he was one of three councillors elected in 1894 for the Crow Lane Ward. He fought three more local elections, winning two and losing the third, before retiring from the Council in 1906.

He was fond of all kinds of sport, and for some years he was president of Earlestown Football Club, a patron of Earlestown Cricket Club, and an enthusiastic fancier and member of the Homing Society. He was a good singer, patriotic songs being his principal line. He was always ready to support any good cause for the benefit of the town and district.

Private Beatty's remains were brought from Liverpool on Monday 24th January, the cortege there to the station taking the form of a military funeral. His internment at SS Mary and John Roman Catholic Church was conducted by Father Dobbin. The mourners include his wife, Catherine, who lived at 45, Legh Street in Earlestown, his daughters, Adelina, Marjory and 'Mrs Clarke', his sisters Misses Agnes and Ignatius Beatty and his brothers, James and Peter. The bearers were a draft of eight men from his Regiment.