Newton-le-Willows and

Earlestown War Memorial
The Great War Roll of Honour
Click on photos to enlarge. (A poppy means no photo available at the moment.) For further information, follow the blue hyperlinks. Many lead to external links over which this site has no control.
In Memory of
Private Robert Baxter
TR3/14774
48th Training Reserve Battalion
Died 31st March 1917 Age 18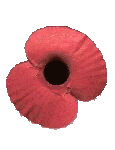 In the early years of the First World War, there were many young men flocking to the recruitment centres to volunteer. However, eventually this flow dried up and conscription had to be introduced.

Private Robert Baxter was the youngest son of Mr Robert Baxter of 30, Brookfield Street. He attended the Wesleyan Day Schools when he was younger. When he was called up he was serving an apprenticeship as a piano tuner.

In his life, he had had pneumonia three times, and had suffered from a broken leg in March 1913. Nevertheless, on February 15th 1917, he was passed as fit for service and sent to Prees Heath Camp, Whitchurch, for training.

He became unwell on the 11th March and was taken into hospital "in a very weak state". He died only six weeks after passing his army medical examination. He is buried in Newton-le-Willows Cemetery.