Newton-le-Willows and

Earlestown War Memorial
The Great War Roll of Honour
Click on photos to enlarge. (A poppy means no photo available at the moment.) For further information, follow the blue hyperlinks. Many lead to external links over which this site has no control.
In Memory of
Private Henry Bates
203228
"D" Coy. 1st/4th Bn. South Lancashire Regiment
Died on 3rd June 1918 age 20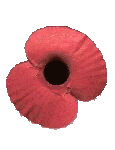 Henry was the son of Richard "Dicky" Bates, a well-known cricketer, and his wife Mary Frances and lived at 9, Acorn Street, Earlestown. Before joining up in November 1914, he had been employed in the Spring Shop at the Viaduct Works.
There are three articles in the NEG related to his death. On 10th May 1918, there was a report of Henry being in hospital at Etaples having been badly wounded in the buttock by gunshot. He had been unconscious for some days but appeared at the time to be improving.

Another article on June 14th recorded his death. He appeared to be making satisfactory progress and was just beginning to take nourishment again when the Germans made two air raids on the 7th Canadian Hospital, Etaples, where Henry was lying. After the second raid he was moved to Dover on the 2nd June, but died the next day. The paper adds "It is not definitely established that he was hit by a German bomb in hospital, but the shock would be sufficient to cause his death while in such a weak state."

He was buried in the cemetery of SS Mary and John RC Church in Newton, with former mates from the Viaduct Works Spring Shop acting as bearers and Rev. Fr. Timmons conducting the service.

Two weeks later, the NEG published an account by Private T. Bennicke of the bombing of "a French hospital" on 23rd May, which could have been one of the raids on Etaples.