Newton-le-Willows and

Earlestown War Memorial
The Great War Roll of Honour
Click on photos to enlarge. (A poppy means no photo available at the moment.) For further information, follow the blue hyperlinks. Many lead to external links over which this site has no control.
In Memory of
Private Harry Barrow
201444
9th Battalion, South Lancashire Regiment
Died 18th September 1918 age 21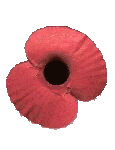 Private Barrow was the son of Geoffrey Barrow of Dean Dam, Golborne, Newton-le-Willows. The NEG report published on 21st February 1919 was very brief and simply stated that Harry had been missing in Salonika since September. It added that prior to enlisting four years earlier at the age of 17, he had worked at the Vulcan.

Harry's name is on the Dorian Memorial which is situated in the north of Greece. It is on what was called Colonial Hill overlooking Lake Dorian.

The CWGC site gives this comment about this front:

"The Memorial is roughly in the centre of the line occupied for two years by the Allied troops in Macedonia, but close to the West end of the British part of this line. It marks the scene of the fierce fighting in 1917-1918, in which the majority of British casualties on the field occurred. From October, 1915 to the end of November, 1918, the British Salonika Force suffered some 2800 deaths in action 1400 from wounds and 4200 from sickness. The campaign in which they fought was one in which few successes were gained, and none of any importance could be gained by them until the last two months. Their action was hampered throughout by widespread and unavoidable sickness (the British forces which attacked in September, 1918 had less than half their normal establishment present); by continual diplomatic and personal differences with neutrals or allies; by the presence on one front of a wide malarial river valley and on the other of difficult mountain ranges; and by the necessity of constructing by far the greater part of the roads and railways which it used. It overcame all difficulties, but this Memorial indicates the cost."

Captain H. Whalley-Kelly, in his book "Ich Dien", gives a full account of the fighting for "P" Ridge on the 18th September 1918.