Newton-le-Willows and

Earlestown War Memorial
The Great War Roll of Honour
Click on photos to enlarge. (A poppy means no photo available at the moment.) For further information, follow the blue hyperlinks. Many lead to external links over which this site has no control.
In Memory of
Private James Barcroft
3034A
56th Bn., Australian Infantry, A.I.F.
Killed in Action 2nd December 1916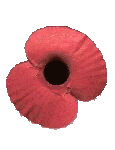 Private Barcroft's father, Mr. J. Barcroft, lived at 73, Haydock Street, Earlestown. However, although a native of Earlestown, most of James's latter years were spent abroad. As a boy he attended the Wargrave School, and his apprenticeship was served in the paint shop of the Viaduct Works, after which he emigrated to America. He put in some seven years there, and then returned to Earlestown where he worked for another twelve months at the Viaduct Works. He did not settle and eventually went to Australia where he had lived for about five years when war broke out. He enlisted in the Australian Forces.

According to the NEG of 9th February 1916 and WG of the following day, the news of his death from a shell in the trenches was received in a letter from Will Brunt:

"I am writing to let you know that your son, Jim, has been killed in action. Jimmy and myself were great chums. He was a great soldier, though small, and always did his bit with the best of us. We were in the front line of trenches when it happened. I am pleased to say Jimmy never suffered any pain, and I saw that he was buried properly."

James is buried in Bancourt British Cemetery in Plot V Row K Grave 19, Barcourt being a village approximately 4 kilometres east of Bapaume. Apart from a handful buried in September 1918, most of the cemetery was made by the concentration of graves from the battlefields East and South of Bancourt and from certain British and German cemeteries. There are now nearly 2,500 1914-18 war casualties commemorated on the site, over half of which are unidentified.

Being a member of the Australian Forces, his roll of honour form has survived. This has a lot of interesting detail, including the fact that James served under the name of 'Bancroft' rather than Barcroft.