Newton-le-Willows and

Earlestown War Memorial
The Great War Roll of Honour
Click on photos to enlarge. (A poppy means no photo available at the moment.) For further information, follow the blue hyperlinks. Many lead to external links over which this site has no control.
In Memory of
Corporal Arnold Rosslyn Banton
25162
48th Heavy Bty., Royal Garrison Artillery
Killed in Action 16th September 1914 aged 27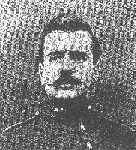 Corporal Banton was the first soldier whose name is on the Memorial to lay down his life, being killed during the Battle of the Marne having survived the Mons battle.

He was born in Earlestown, the son of William Banton. The NEG obituaries published on 2nd October 1914 and 20th November 1914 states that his wife lived with her father-in-law at 65, Sankey Street, Earlestown, but CWGC, who compiled their records after the War, gives his wife as "Alice Maud May Stace (formerly Banton) of 57, Llandover Road, Woolwich Common, London". At the outbreak of the War, Corporal Banton was stationed at Woolwich with the Royal Garrison Artillery, where he had married his wife two years before the War. He had eight years and six months service in the RGA, and was the top of the roll for the rank of Sergeant. For five years he was first-class signalling instructor.

Corporal Banton is now buried in Vailly British Cemetery in Plot IV Row A Grave 32. Vailly-sur-Aisne is a small town on the north bank of the Aisne River, 13 kilometres east of Soissons and 18 kilometres south of Laon. It was the point at which the 3rd Division crossed the river on the 12th September 1914 in the advance from the Marne. It changed hands several times during the War. The cemetery was made after the Armistice by concentration from many other burial grounds and from the battlefields, so it is not possible to say where Corporal Banton was originally buried. There are now over 650 1914-18 war casualties commemorated on the site, nearly half of whom are unidentified.