Newton-le-Willows and

Earlestown War Memorial
The Great War Roll of Honour
Click on photos to enlarge. (A poppy means no photo available at the moment.) For further information, follow the blue hyperlinks. Many lead to external links over which this site has no control.
In Memory of
Second Lieutenant Willie Rhodes Bailey
Royal Flying Corps
Killed On 19th January 1918 Age 24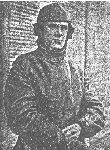 Second Lieutenant Willie Bailey, whose name is given by "Officers Died In The Great War" as Wilson, was the son of James and Alice Bailey of 84, Athol Street, Earlestown. He was born in Sheffield but attended the Wesleyan Day School when his parents lived in Legh Street., and, on removing to the Common, he transferred to the Manor School. He was employed at the Vulcan Foundry as a crane driver, and took keenly to the Boy Scout movement under the direction of Scout-master Huxley, and attended the great Scout Demonstration at Birmingham at which Col. R. S. Baden Powell was present.

About a year before the War, on October 7th 1913, Willie joined the Flying Service, and was promoted to Corporal and then Sergeant. He spent two years in France. On September 29th 1917, he got his discharge to prepare for a commission, and subsequently became Second Lieutenant.

On Saturday 19th January, 1918, a flying accident occurred at a South coast aerodrome which resulted in the death of three officers of the Royal Flying Corps. The obituary in the "Newton and Earlestown Guardian" of the following Friday is confusing regarding the details. Initially, it states that "two machines collided in the air and both crashed to the ground. A strong wind was blowing and the atmosphere was rather hazy."

Later it quotes a letter from Captain P. A. O. Leask of No. 92 Squadron who said that Willie "was flying very low at the time of the accident. He had just done a "roll" when the machine commenced to spin and he had not height enough to get it out before striking the ground." Captain Leask makes no mention of a second plane or a collision.

Second Lieut. Bailey was connected with St John's Church, where he was confirmed. He was buried a week after his death in Newton-in-Makerfield Cemetery, as the Newton-le-Willows Cemetery was then called.

An article in the "Newton and Earlestown Guardian" published in June 1915, at the time of Willie's promotion to Corporal quotes a letter form him:

"Our machines chased the Zeppelins that attacked London, but they got away in the dark. We saw them at about 8-30 p.m., about 30 miles away. They had too long a start. However, we went up next morning, at about 3 a.m., and attacked a convoy of Bosche aeroplanes (German), which I conclude were a protecting escort, and defending the route of the Zeppelins."
Willie has a memorial on the FindAGrave website.