In Memory of
Able Seaman William Atkinson
J/1100
H.M.S. "Indefatigable", Royal Navy
Killed in Action 31st May 1916 Age 26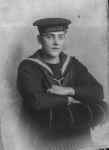 The photo and following information was kindly provided by William's nephew, Ken Burman.
William Atkinson was the eldest son of George and Alice Atkinson, of 50 Cross Lane, Newton. Willie, as he was always known, was born on 1st July 1890, at 2 Booth Street, Earlestown and educated at the District School, Earlestown.
In 1908, he joined the Royal Navy, being described as an asst. turner, 5ft 8ins tall, with black hair and brown eyes. Following his initial training he joined HMS Warrior, where he had experience in gunnery and diving. After 18 months he joined HMS Indefatigable, a heavy cruiser, sailing around the Mediterranean before taking part in the bombardment of the Dardanelles.
Upon her return to England, Indefatigable joined the Grand Fleet at Scapa Flow and so was involved in the Battle of Jutland. She was sunk early in the battle by enemy gun fire, resulting in the loss of all but two of the ship's company.
Willie was 26 years old. His two younger brothers, Fred & Bob, served in France with the Lancashire Yeomanry and both returned unscathed."
William's name is on the District School Roll of Honour and on the Plymouth Naval Memorial.