Newton-le-Willows and

Earlestown War Memorial
The Great War Roll of Honour
Click on photos to enlarge. (A poppy means no photo available at the moment.) For further information, follow the blue hyperlinks. Many lead to external links over which this site has no control.
In Memory of
Private S. G. Atkinson
1913
South Lancashire Regiment
Killed in Action 25th September 1915 Age 21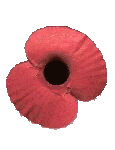 There seems to be some confusion regarding Private Atkinson's forenames. The obituary in the Newton and Earlestown Guardian of 8th October 1915 refers to Sidney G. Atkinson; the Commonwealth War Graves Commission has Samuel George Atkinson; while Soldiers Died in the Great War simply has George Atkinson. However, all three sources have the same regimental number of 1913 so clearly refer to the same person. (The Guardian has him in the 4th Battalion of the South Lancashire Regiment, while the other two sources have him in the 2nd. There may be an explanation for this.)

Private Atkinson was born in Irlam, near Wigan, the son of James and Elizabeth. He lived at 36, Cherry Street, Earlestown. The newspaper obituary said that his pay book and other personal effects were sent home by Private Hartless, a comrade. It also stated that Mrs Atkinson had five sons serving; one was in hospital at that time at Leamington Spa; one was a Prisoner of War; one was at home on furlough and was with the Scots Guards; and one was in training with the 1st South Lancashire Regiment.

Private Atkinson's name is on the Menin Gate at Ieper, the memorial to over 54,000 officers and men who died in the Ypres Salient before 16th August 1917 and who have no known grave. The explanation regarding the battalion could be linked to Captain Whalley-Kelly's description, in his book "Ich Dien", of life in the 4th Battalion during August and September 1915:
"For the next two months [i.e. August and September] the [4th] Battalion, in its new capacity [as the Pioneer Battalion of the 3rd Division] had a very busy time digging and reconstructing trenches, road making and improving camps, but the machine gunners and bombers continued to carry out tours in the front line with units of the 7th Brigade [which included the 2nd Battalion]."

George Phythian, a bomber with the 4th Battalion was also killed on the 25th September, so Private Atkinson may have been another bomber. The death of Private Atkinson is mentioned in a 'sensational' letter sent from the front by Private J. E. Garvey and published in the Guardian of 1st October 1915. It is clear therefore that he was killed during the Second Attack on Bellewaarde, part of the Battle of Loos. Captain Whalley-Kelly gives an account of this attack, basing it on the regimental diary.