Newton-le-Willows and

Earlestown War Memorial
The Great War Roll of Honour
Click on photos to enlarge. (A poppy means no photo available at the moment.) For further information, follow the blue hyperlinks. Many lead to external links over which this site has no control.
In Memory of
Sergeant Sylvanus Arden
200916
D Company, 2/5th Battalion West Yorkshire Regiment (Prince of Wales's Own)
Killed in Action 1st September 1917 aged 25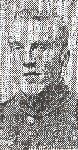 The NEG of the 7th September 1917 and WG of the following day both spell the deceased soldier's name as 'Ardern'. However, a letter published a week later in the NEG, together with CWGC and SDGW all spell his name without the second 'r'.

Prior to enlisting, Sylvanus was employed by the Earlestown Co-operative Society. According to the NEG, he lived at 141 Earle Street, Earlestown, and was home on leave shortly before he was killed. He was due to go in training for a commission. SDGW records that his place of enlistment and of residence was York.

According to the NEG's obituary, he was killed while on patrol on the night of August 31st, falling at the same time as Lt. Hutchinson. His name is recorded on the Arras Memorial, which commemorates almost 35,000 casualties of the British, New Zealand and South African Forces who died in the area between Spring 1916 and 7th August 1918 and who have no known grave.