| | | | | | | |
| --- | --- | --- | --- | --- | --- | --- |
| | LINKS | MEMORIALS | RESOURCES | POSTCARDS | OTHER WARS | |
Newton-le-Willows and

Earlestown War Memorial
The Great War Roll of Honour

A

B

C

D

E

F

G

H

I

J

K

L

M

N

O

P

Q

R

S

T

U

V

W

X

Y

Z
In Memory of
Private Reginald Abey
33786
1st Battalion Devonshire Regiment
Killed in Action 4th October 1917 Age 21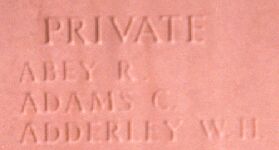 Reginald was the twenty one year old son of William and Rosamond Abey of 35 Patterson Street, Earlestown. According to the Newton and Earlestown Guardian of November 2nd 1917, and the Warrington Guardian of the following day, he joined the Royal Garrison Artillery in December 1914, but was in hospital when his battery went to the front. He was, as a result, transferred to the Devonshire Regiment (Labour Battalion) and put in several months service in France with his unit before moving to the 1st Battalion a couple of months before his death. He had three brothers who also served with the forces in France. On 9th April 1915, NEG published a letter from Private A. Abey of the South Lancashire Regiment and of Patterson Street about Bert Hemmings being injured.
Reginald was killed during the 3rd Battle of Ypres, usually known by the name Passchendaele, a campaign fought in the most atrocious conditions of mud and water. The bodies of many who fell simply sank and were never found. Reginald is one of nearly 35,000 names who have no known grave and are commemorated at the Tyne Cot Memorial.
The Times Diary of the War records:
"October 4.
At Ypres: Great British victory in front of Passchendaele Ridge on 5-mile front from railway N. of Langemarck and Tower Hamlets Ridge on Ypres-Menin road. Part of Poelcappelle, Broodseinde, and Booelaere heights taken; over 3,000 prisoners; Germans regained ground in Reutelbeek valley, S.E. of Polygon Wood."
Chris McCarthy in his book 'Passchendaele The Day-By-Day Account' describes the fighting involving the 1st Devons.