Newton-le-Willows and

Earlestown War Memorial
The Great War Roll of Honour
Click on photos to enlarge. (A poppy means no photo available at the moment.) For further information, follow the blue hyperlinks. Many lead to external links over which this site has no control.
In Memory of
Lance Corporal Harold Cunliffe
33207
61st Company Machine Gun Corps
Killed in Action 21st March 1918 Age 20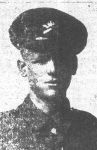 Harold was the son of James and Leah Cunliffe of 16, Booth Street, Earlestown, having been born in Bedford, Leigh, Lancashire. As a boy he was connected with both the Manor and the Wesleyan Day Schools. He worked at the Viaduct Works as a wagon-maker before enlisting in August 1915. He was originally with the South Lancashire Regiment but was attached to the Machine Gun Corps shortly before his death in the First Battle of the Somme, 1918 (not to be confused with the fighting in 1916). According to the WG obituary of 17th May 1919 "he had been through much fighting previous to the date in question, but had never been wounded."
Harold was originally reported missing in action, his death being officially presumed only in May 1919. His name is recorded on the Pozieres Memorial.