Newton-le-Willows and

Earlestown War Memorial
The Great War Roll of Honour
Click on photos to enlarge. (A poppy means no photo available at the moment.) For further information, follow the blue hyperlinks. Many lead to external links over which this site has no control.
In Memory of
Quarter Master Sergeant Sidney Gilbert Corlett
TR3/12088
51st Battalion Training Reserve
(formerly Lce. Cpl. (27771) 10th Battalion South Lancashire Regiment)
Died 25th February 1917 Age 33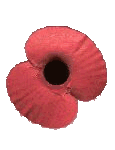 According to CWGC, Sidney was the son of Thomas Edward and Ellen Elizabeth Corlett, and the husband of Helen S. Foster Corlett of 27, Lime Street, Whiteinch, Glasgow. According to the NEG obituary published on Friday March 2nd 1917, "He would have been 34 had he lived until Monday." This gives his date of birth as 5th March 1883.
He was a native of Gloucester, having been educated at the King's (or Cathedral) School in that city. He was for eight years head assistant at the Gloucester Public Library before being appointed to the post of librarian at Earlestown on August 25th 1908, nearly a year before the building was opened by Lord Newton on July 22nd 1909. It was his job to organise and systematise the work of the Library.In addition to his work at the Library, he was associated with the church work in Wargrave parish. For a time he contributed a weekly article to the "Earlestown Guardian" on literary topics.
Being of military age, he was called to the colours under the Service Act, and the Library Committee, taking the view of "indispensibility" in the work of the Library, appealed very strongly for his exemption, but without success. Sidney joined the colours in March 1916. He married Miss Helen Foster of Glasgow on March 1st 1916, the ceremony taking place at Dowanhill Free Church, and the couple took up residence at 1, Park Road.
According to the NEG obituary, Sidney was attached to the 7th South Lancashire Regiment, although CWGC states the 10th Battalion. The memorial at Emmanual Church gives his regiment as the 7th. However he was stationed all the time at Prees Heath, near Whitchurch. His organisation abilities meant that, within a few months there, he was promoted to the rank of Company Quarter-Master Sergeant.
Sidney was killed on the railway line at Whitchurch, an inquest held at Whitchurch returning an open verdict. Arrangements were at first made for him to be buried at Newton Cemetery, but his family preferred that he was buried in Gloucester, the city of his birth, in the Old Cemetery.
According to the NEG of 24th January 1919, a photograph of Sidney Corlett was hung in the Public Library.