Newton-le-Willows and

Earlestown War Memorial
The Great War Roll of Honour
Click on photos to enlarge. (A poppy means no photo available at the moment.) For further information, follow the blue hyperlinks. Many lead to external links over which this site has no control.
In Memory of
Driver Peter Corcoran
64862
24th Div. Ammunition Col. Royal Field Artillery
Died of Wounds 23rd March 1918 Age 22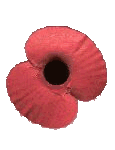 Peter, or Pee as he was known, was the sixth of seven brothers who served with the Forces. (An eighth brother, James, "the only support of an aged father and mother" according to the NEG of April 19th 1918, was called up and appeared before the Tribunal on the 18th April, the case being adjourned by the medical board for three months for further examination.) Some of their names are on a list of recruits published in the NEG.
Peter lived at 43, Cherry Street, Newton Common, with his parents Patrick and Alice Corcoran. He attended St. Mary's RC School as a boy then worked as a drawer at the Wood Pit Collieries. With his brothers, he joined the Army on January 14th 1915, going out to France the following May.
An In Memoriam in September 1918 mentions his fiancee, Amy Crook.
Peter's brother William, according to the latter's obituary, died in No. 36 Clearing Station, the same as Peter himself. Peter's own obituary gives no details of his death. Peter is buried in Brie British Cemetery in Plot V, Row D, Grave II.
Peter's obituary also includes reference to two of his brothers, Terence and Thomas. Gunner Terence Corcoran of the RFA was invalided home and died of consumption on August 17th 1916. Driver Thomas Corcoran of the RFA was wounded in action shortly before Peter's death. He was buried for two days in the debris thrown up by shelling. He was eventually recovered and was at the time of the obituary in hospital in Nottingham.
A Private Patrick Corcoran, 5991, of the 6th Battalion Connaught Rangers, died on 7th September 1918. SDGW state that, although he was born in Co. Mayo (CWGC gives his parents as Michael and Mary Corcoran of Langhill, Balla, Co. Mayo), he enlisted in Earlestown and was resident in Newton-le-Willows. He is buried in Poznan Old Garrison Cemetery in the west of Poland, a cemetery built for prisoners of war who had died in Poland. An obituary as not as yet been found, so it is unlikely that this is the casualty on the Memorial.