Newton-le-Willows and

Earlestown War Memorial
The Great War Roll of Honour
Click on photos to enlarge. (A poppy means no photo available at the moment.) For further information, follow the blue hyperlinks. Many lead to external links over which this site has no control.
In Memory of
Staff Sergeant H. Coleman
T/870
Royal Army Ordnance Corps
attached to 156th Bde. H.Q., Royal Field Artillery
Killed in Action 21st April 1917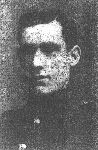 Information has been obtained from CWGC, a detailed, full-column obituary in the NEG, which quoted two letters from his officers, a WG obituary and an In Memoriam in the NEG in 1918. None of these sources actually gives Staff Sergeant Coleman's first name!
Staff Sergeant Coleman was born in Billinge on April 17th 1890. He lived for many years in Newton-le-Willows, and was a member of Newton-le-Willows Conservative Association and of the Amalgamated Society of Engineers. He was apprenticed to the Vulcan Foundry Co., where by his energy and industry he was promoted early in his journeymanship to the position of charge-hand in the Erecting Shop, under Mr. John Gill.
Soon after the outbreak of the War, he volunteered for the Army and went to Woolwich, where he passed the Army Ordnance Corps test and became Armament Artificer Staff-Sergeant. He was afterwards transferred to Tynemouth for a further course of instruction.
He was married at Holy Saviour's Church, Tynemouth, on September 9th, 1915, to Winifred Maud Glover, the youngest daughter of Mr. H. A. and Mrs. C. Glover of Birley Street, Newton-le-Willows.
From Tynemouth he was drafted to France in December 1915, joining the 156th Brigade of the R.F.A. on the Headquaters Staff.
According to the NEG obituary published on 25th May 1917, Staff Sergeant Coleman was killed in action "whilst assisting to bring in some of his wounded colleagues at 12.15 a.m. on April 21st through the explosion of a shell." The obituary carried letters of sympathy from Sergt. W. T. Marshall and Captain E. L. Lee, together with a report that reference was made to Staff Sergeant Coleman on Sunday morning at the Weslyan Church, Earlestown, by the preacher, Mr. T. Wheatley, the family being represented at the service.
Staff Sergeant Coleman is buried in Faubourg D'Ameins Cemetery, in the town of Arras, in Plot V, Row B, Grave 4.