Newton-le-Willows and

Earlestown War Memorial
The Great War Roll of Honour
Click on photos to enlarge. (A poppy means no photo available at the moment.) For further information, follow the blue hyperlinks. Many lead to external links over which this site has no control.
In Memory of
Private Owen Clarkin
201091
1st/4th Battalion South Lancashire Regiment
Died of Wounds 15th April 1918 Age 21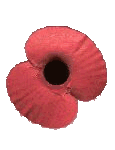 Private Owen Clarkin was born in Weston Point in Cheshire but at the time of his death lived with his wife at 6, Princes Street, Earlestown. Before joining the Army, he worked at the Glass Bottle Works in Earlestown. He was in France for nearly three years.
Owen's wife received a letter from the Roman Catholic chaplain at one of the Casualty Clearing Stations telling her that he had been brought into the station the previous night but he had died in the early hours at about 5.30 a.m. "His wounds were in the abdomen and were fatal from the start," the chaplain added.
Owen is buried in Lapugnoy Military Cemetery, six kilometres west of Bethune, in Plot VII, Row D, Grave 2.
The Regimental Diary for the 15th April simply records: "C. Coy. moved to billets at BURBURE. Casualties O.R.'s Killed 1, D of W 1"