Newton-le-Willows and

Earlestown War Memorial
The Great War Roll of Honour
Click on photos to enlarge. (A poppy means no photo available at the moment.) For further information, follow the blue hyperlinks. Many lead to external links over which this site has no control.
In Memory of
Sergeant Thomas Moston Chorley
28604
2nd Battalion Lancashire Fusiliers
Killed in Action 22nd April 1918 Age 27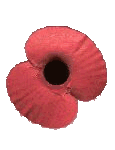 Sergeant Thomas Chorley was the brother of Mr. Harry Chorley of 25, Cross Lane, Earlestown. CWGC states that he was the husband of E. Caldwell (formerly Chorley) of Birkett's Hotel, Morecambe, Lancashire. Prior to joining the Army, Thomas was manager of the Boot Department of the Oldham Co-operative Society. He had three brothers serving in the Army. Their father had served his time with Mr. Gibbons the tailor at the corner of Earle and Alma Streets.
According to the NEG obituary of May 10th 1918, Thomas was killed by enemy gunfire on April 28th, though both CWGC and SDGW both give his date of death as six days earlier. The obituary says that he "had a very successful career in the Army, being mentioned in dispatches."
He is buried in Gonnehem British Cemetery, about seven kilometres north west of Bethune, in Grave A 24. The cemetery was begun in the middle of April, 1918, when the German front line came, in the Battles of Lys, within two miles of the village. There are 200 1914-18 war casualties commemorated on the site.