Newton-le-Willows and

Earlestown War Memorial
The Great War Roll of Honour
Click on photos to enlarge. (A poppy means no photo available at the moment.) For further information, follow the blue hyperlinks. Many lead to external links over which this site has no control.
In Memory of
Private Frederick William Chambers
61402
12th Battalion Manchester Regiment
Killed in Action 26th August 1918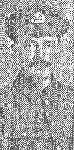 Private Fred Chambers lived with his wife and their six children at 162, Crow Lane East, Earlestown. He was originally in business in Earlestown as a tailor before joining the army in June 1916. According to the obituaries in the NEG of 20th September 1918 and the WG of the 28th September, he was well known in local billiards circles.
He was home on leave at Christmas 1917 and was transferred from the South Lancashire Regiment to the Manchester Regiment. According to a letter sent by Pte. Singleton of Rydal Street, Fred was shot through the head by a machine gun bullet on the 25th August, though both CWGC and SDGW give the date of his death as the 26th. Many actions took place at night which could explain the confusion. Alternatively, he may have died of wounds.
He is buried in Adanac Military Cemetery, near the village og Miraumont, fifteen kilometres north north east of Albert, on the Somme. He is in Plot VI, Row H, Grave 22. The cemetery, the name of which was formed by reversing the name Canada, was made after the Armistice by concentrating the graves from the battlefields and small cemeteries around Miraumont and particularly from the Canadian battlefields around Courcelette.